Main Assembly Lathe
A Grizzly 13x40 is the main assembly and repair lathe in my shop.  It's equipped with a 6 jaw Bison "Set' Tru"
chuck and allows me to do very accurate work for all parts of the construction process.
Taig CNC Mill
The small mill is suprisingly accurate.  I've made upgrades such as adding the Kress spindle that allow for higher speeds which are necessary for the very small endmills used in inlay work. I recently purchased a high speed water-cooled spindle which I plan to attach soon.  As much as I love the Kress the high pitch of the router can drive me a little nuts after a few hours of operation. A variety of jigs and fixtures allow me to cut inlays or the pockets that they go into, slotted ringwork, engraving…it's a versatile work horse and there is a place for one of these in any cue shop.
Porper Model B Lathe
This small lathe is ideal for sanding shafts, polishing clear coat or as a jig to hold cues when they are getting leather or linen wraps.  It unfortunately lacks the accuracy for much else, but it's variable speeds can be changed on the fly making it quick and safe to work on.
Grizzly Milling Machine
The Grizzly mill has a power feed table making it a snap for cutting the "V groove" into a forearm to receive points.  I had to make the clamp you see here that holds the 1.5 HP Porter Cable 690 router to the quill of the machine.  The higher speeds that the router has allow for much more flexibility, the mill's standard  rotation speed is about 3400 RPM, but the router will turn at 28,000.
The mill is also equipped with a rotary indexing fixture allowing  accurate rotation for 4, 6 or 8 points…or even recuts.
The front vices hold a point square, where a wide straight router bit can be used to "face" the material.  This is done 4 times on each piece.  When a point blank is finished the corners are a perfect 90 degrees and it will produce 2 points.
I also have another fixture that can be clamped in here to cut the veneers.  It will hold the veneers under pressure and a "V" groove is cut in across the face.  The veneer stack is then trimmed, glued, folded and clamped for 24 hours until it is set.  This is when it starts to finally look like a point, ready to be glued into the forearm.
Cognoscenti Shaft Saw Machine
This saw machine was owned by Detroit cuemaker "California" John McCue.  Years ago I went to John's shop to help him try to program an enormous CNC Mill he had purchased.  While I was there John showed me this machine and how beautifully it works to cut shafts. This Cog version is the nuts.
The biggest benefit is that the 5HP Powermatic 66 saw that the taper fixture is built on, is super quiet compared to a router.  The blades also have 60 teeth so it leaves a super smooth finish on the shaft.  John passed suddenly years ago and after years of this machine sitting peacefully the garage I finally purchased this saw from John's wife Anita.
About the only drawback is that the machine is not set-up to cut multiple tapers. I'm happy with the one we have which took quite some time to get perfect, we only offer one taper on our cues for this reason,  Perhaps in the future we'll upgrade it with a stepper motor and computer but at the present time there just doesn't seem to be a need.
Jet 13 x 14 Lathe
The process of coring makes a LOT of saw dust and I simply didn't want that in my main shop. Not all of my cues are cored but when I have something such as a burl or ebony front cue, it needs to be made lighter or stabilized.  The large gun drills you see in the upper right are the primary tools used here but the machine is also used for cutting rings from a billet.
Spiral Tapered Reamer
I had this special reamer made at enormous expense.  This tool allows me to make a perfectly repeatable tapered hole inside a forearm during part of the coring process.  The reamer creates a tapered hole .650″ at the joint end and .775″ at the end that gets joined to the handle, over a 12″ length.
My preferred glue for coring is West System, and it is for many other cuemakers.  The tapered core ensures that both the core and forearm can be nicely coated with glue before clamping and concerns about any areas that do not get filled up by a foaming glue, such as something like Gorilla, are completely eliminated.
C-Clamps
There are a variety of ways to clamp points into a cue.  One popular method includes wrapping the forearm in waxed paper and then stretched surgical tubing around it to hold the points in while the glue dries.
I always found that method made it difficult to see what I was doing. This method with C-Clamps may be helpful for some cuemakers that have experienced the same diffculty.
Sharing is caring…
Clausing Lathe
This machine is fitted with a Porter Cable router and a slotting bit which does the cutting.  For every rotation, the tool gives 6 cuts and is spinning at 28,000 RPM.  All of that jargon equals a smooth finish on everything cut here.
The machine is perfect for turning wood from square to round, tapering butts, forearms or whatever.  It makes one hell of a lot of expensive saw dust so it is strategically located next to the main dust collection system.
I was fortunate to find extra tailstocks for it which allow for easy changeover from straight cuts to something like taper cuts on a butt or forearm.  Nothing like good 'ol fashioned American-Made machinery.
Carbide 60-Degree cutter
This cutter fits into a Porter Cable trim router on the main assembly lathe in the shop.  It is perfect for any external thread cutting such as what is required for a stainless steel joint collar.
Research and Development – Center of Excellence
The pool table is where it all pays off.  Not only do I love cues, but I also love to play and compete.  I'm always trying new things and definitely test hit every cue that comes out of the studio so having a pool table only steps away is helpful.
Many of my customers enjoy the ability to be able to play and hang out while I'm working on something for them.  One rule to be aware of…that's great that you recently purchased that jump cue but learning to use it on my pool table is simply not something you do.  I'm originally from Windsor, Ontario if you are wondering why the Canadian flag is here on the wall.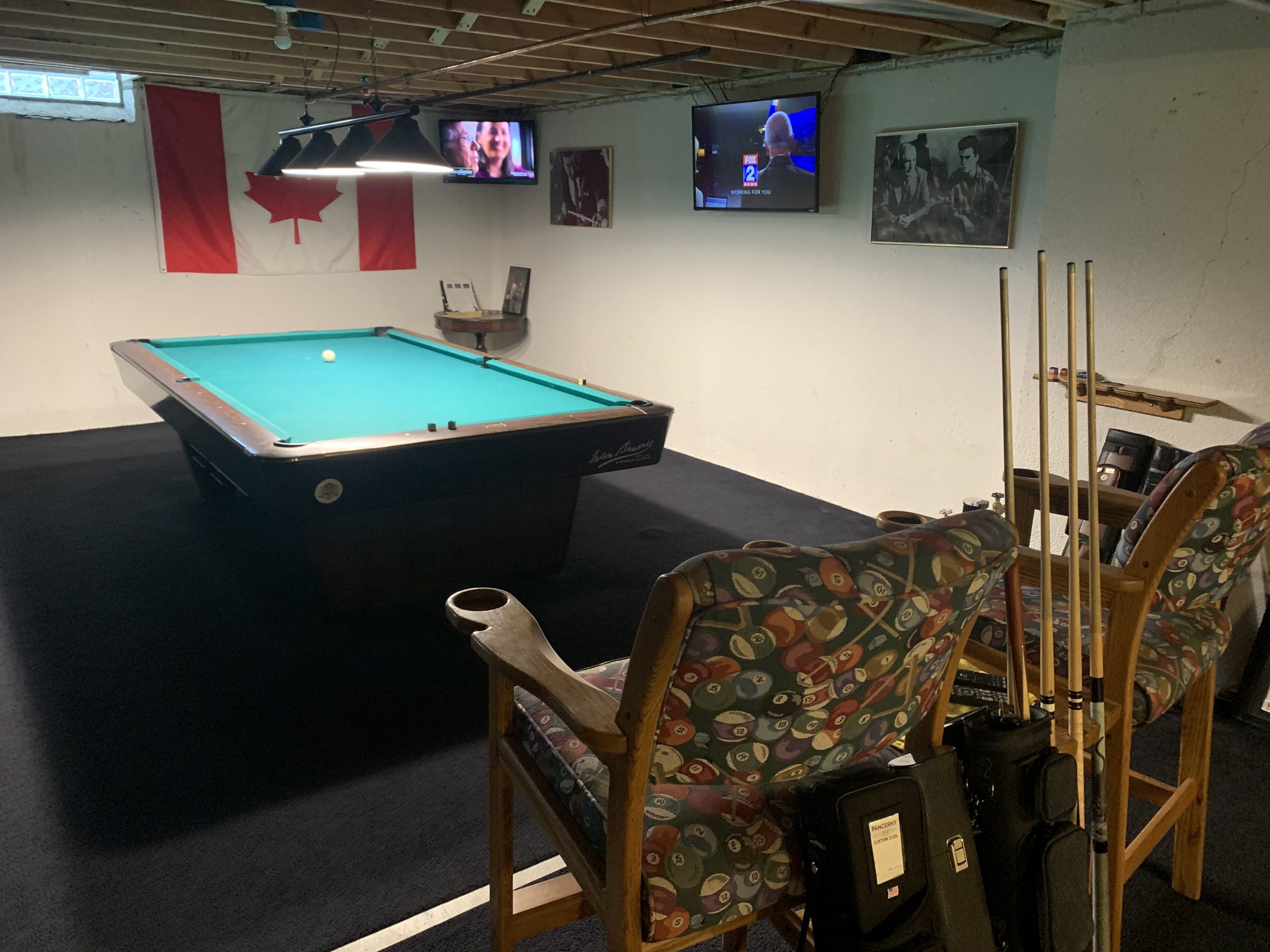 Shaft Cutting
Here is Ryan putting the perfect taper on carefully aged shafts, he is the man to thank for why they are so straight.  I think he throws more away than he lets make their way into cues…hey buddy…do you know how much that wood costs me?  Grrrrr…..
Cue Assembly
Child labor is the real secret to how we keep our prices so low, it's incredible how little you can pay these kids and they just keep smiling away.  :-). (Hopefully you realize that I'm kidding, this is my son Bryan and he loves to hang out with his dad in the shop once in a while.)
Who is in the shop?
Sometimes I take my little helper out to pool league, tournaments and things like that.  This guy thought he would show my young apprentice a thing or two on the table…and then he pretty much got schooled on how well this kid plays.  Next time get the bet settled before you run out on him junior!
Forearms
An assortment of forearms assembled in the Fall of 2018.  There are some cues that I have wanted to build for years but with limited time and customer orders, I simply haven't been able to.  In 2018 I stopped taking customer orders so that I could finally build some of these and combine a few woods/veneers that I have wanted to for years.  When completed these will be put up on the website for purchase.
Some of what is shown here includes center points with Amboyna Burl, Almond Burl, Snakewood, a few Titleist-style cues, forearms with rosewood, Bois de Rose, Bacote and of course top-notch Birdseye Maple.
(Note: Gus Szamboti was always one of my favorite artists and his work was highly-influential for many other cuemakers, including myself.  The Titleist cues will pay tribute to Gus and one or two of my favorite styles of Szamboti cues.)
Clamping Bench
I grew tired of tying up my machines to hold work while I was waiting for glue to set up.  This bench has been super helpful to apply light pressure for some key glueing operations.  West System marine grade epoxy is my preferred adhesive for several parts of the cue making process, it is insanely strong!  When I clamp rings on forearms or butts I can hold them in here for 24 hours while the glue reaches full curing strength…and the lathes are completely free to use.  The small rings are made of Delrin which does not adhere to glue.  I have never seen this in any other cue makers shop, if you decide to build one then please let me know!