Cue Repair Pricing
Many repairs can be done while you wait, some need a little more time.  It's best to call or text and let me know what you have so we can determine the best day and time for your appointment.  There is a pool table in the shop so you can play while your cue is being worked on.  Leather wraps which I seem to do a lot of these days take about an hour.  You'll be able to take the cue with you but special care is needed for the first 24 hours to ensure the seam lays down nicely.
Please note:   My time is precious.  If you set-up an appointment, please keep it or call to let me know that your schedule
has changed.  It seems like some common courtesies are far too uncommon these days.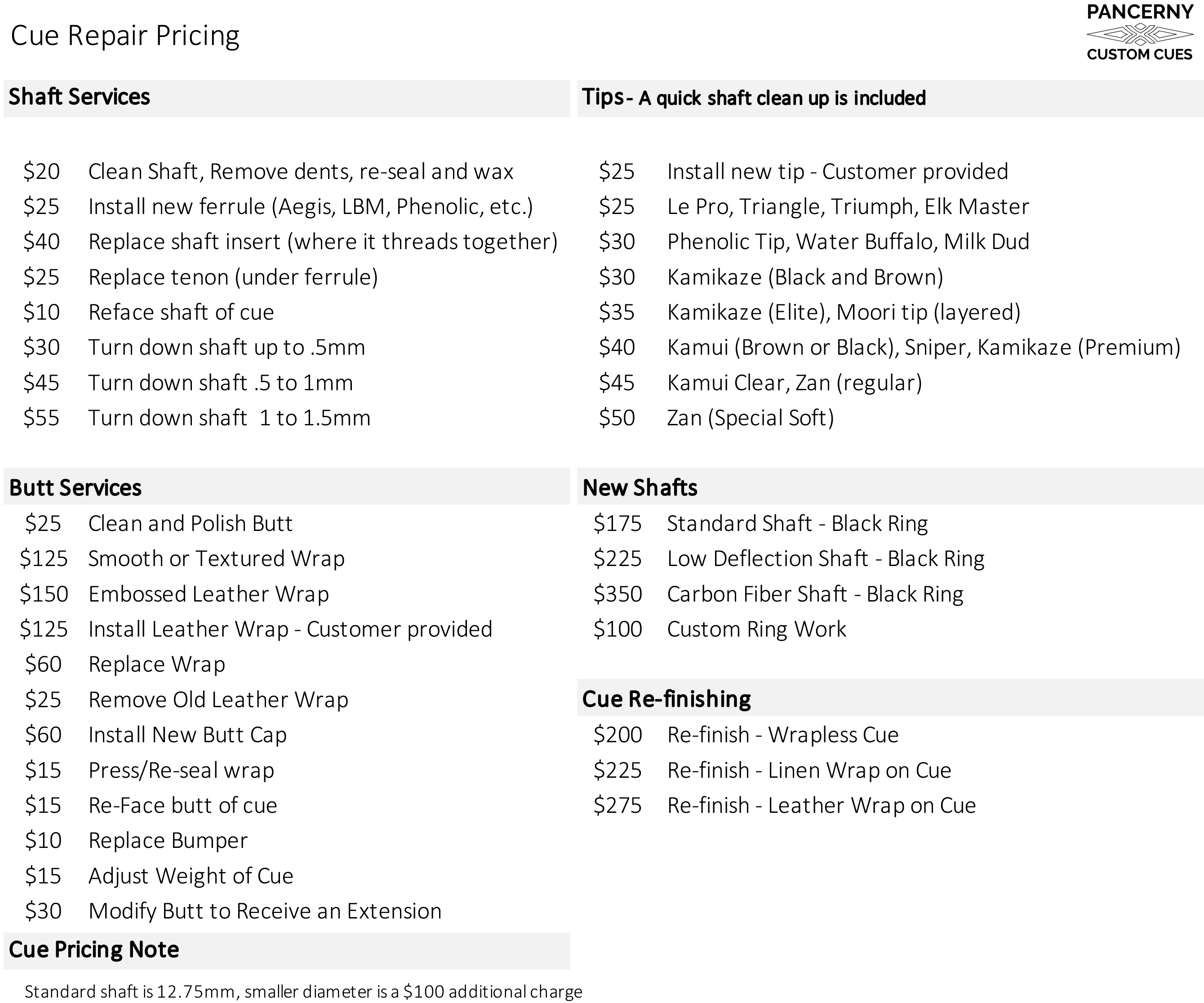 Leather Wraps
Samples of some of the material we typically keep in stock can be seen above.  If you have something different in mind, please order from Superior Cues and have it shipped to my address.  In my experience, their leather has the most consistent side-to-side thickness of any available.  This consistency allows for the seam to be done with a minimal ridge where the two pieces meet down the center of the cue. I have personally been to the shop, seen the attention to detail and great care given to ensure top-quality. Other leather sources do not even come close.
Designing Your Own Cue?
Here are some forms if you are playing around with the idea of having a custom cue made. They are optimized to be printed at 11 x 17 but will work just fine at 8.5 x 11.  In Safari, if you click on the link and and then go to File>Save as…it will download to your computer.  Sorry but I don't know how to do it on a PC.
Pancerny Cues Design Form 11x17
Pancerny Cues Butt Layout Grid 11x17
Pancerny Cues Sketch Grid 11x17
If you have a suggestion for other layouts that could be helpful, please send me an email.